At the heart of any event – memorable or otherwise – something concrete is happening. An obvious statement in itself, but still an acknowledgement that has engaged my thoughts a lot in recent years. And is again.
As I find myself focusing more and more on the structures and behaivours that might balance our intentions for Coriolan/us, I am inevitably asking myself what I might really be wanting to happen there. And over the past few days – as my thoughts have turned towards the crowd of people who will meet us there, and who will ultimately shape each performance of this work – I have again found myself revisiting the intentions and events of past works, particularly those that I have structured specifically to invite and animate social gatherings in public space. Events where the main thing that was happening was simply 'us'.
Today I have been revisiting something happening / snapshot – the collective title for a series of located interventions that Rosa Casado and I have periodically performed since 2008. A series in which each work proposes a single direct act as the focus and impetus for a social event. At its simplest, these works do something, while spectators are invited to complete the work by entering and being photographed within it – the event taking shape both in the resulting series of photographs, and in the progressive and often strangely accumulative attempts to realise them. The generated images being immediately printed as postcards, and made available to anyone who appears in them.
While digging around in the something happening archive I found a copy of a press release, published one summer evening in 2009, when we were forced to cancel one such intervention. We had planned to step out of a building and walk across the city of Zadar in Croatia, crossing through the busy and narrow streets of its medieval centre, picked out and very visibly tracked by the searchlight of a low flying police helicopter – one of us dressed as a bear and the other carrying a camera. As in similar events, beyond our meeting with the city itself, our task was simply to capture and reveal the series of personel and passing encounters with the bear that would inevitably mark our journey, each within the flash of a single photograph. But as we prepared to start, the police helicopter – the only one available in the region – was called away to support a missing person search in nearby mountains.
Under the title "some things happen / some things don't", the press release reads: "Sometimes things happen that allow us to see ourselves. Sometimes events unfold in ways that allow us to recognise our choices and our assumptions. Often these events are at the extremes of our experience. The attempt to make something happen – something that might allow us to meet ourselves, and each other, within the actuality of our daily lives – could be futile. But not hopeless. Our attempt to make something happen in Zadar this evening was simply an attempt to make such meetings more possible – if only for a moment. We tried to combine events and circumstances, in a useful conjunction – a conjunction that might possibly enable much more than merely the sum of its parts. But, in this moment, we failed to overcome the project's inherent futility. For some of us, the attempt itself has been revealing. But for most of this city, tonight, nothing will happen that wouldn't have happened anyway. Events will unfold largely as expected. Maybe that is a good thing. And maybe it isn't. We will try again". The release is signed "Mike Bookes and Rosa Casado – Zadar, 20:00, August 11th, 2009".
Along with this statement I found five postcards from the bear's first outing – a journey through a crowd, of over three hundred people gathered in the unlit clearing of a wood in the middle of the night, in the rural north of Spain. Something in the quality and proximity of these snapshots reminds me what I would like to meet within the field of activity that will become Coriolan/us. The postcards show five simple images, produced at the initiation of an event, as it gathered and orientated itself. They are the only images from that evening that don't yet show all the other people who were about to shape the work, but only glimpses of the place that it constructed – formed and revealed as a progression of flashlit moments, in the otherwise dark void of that night…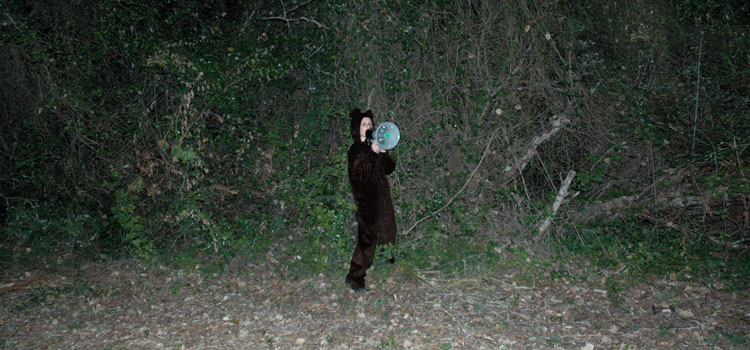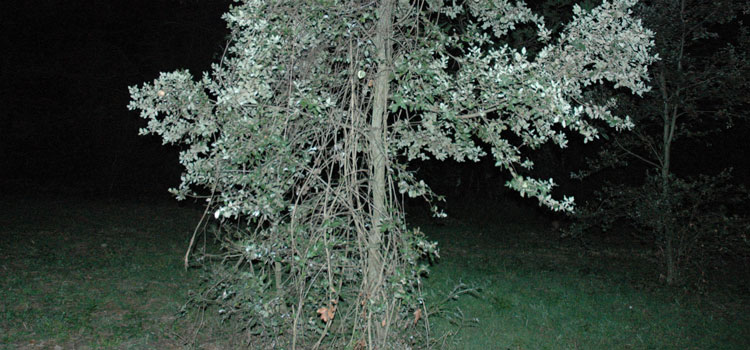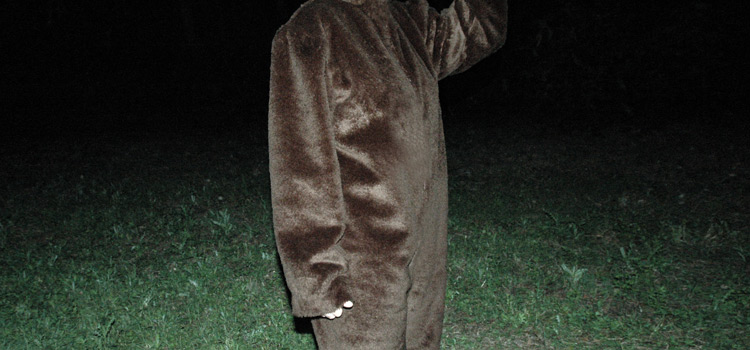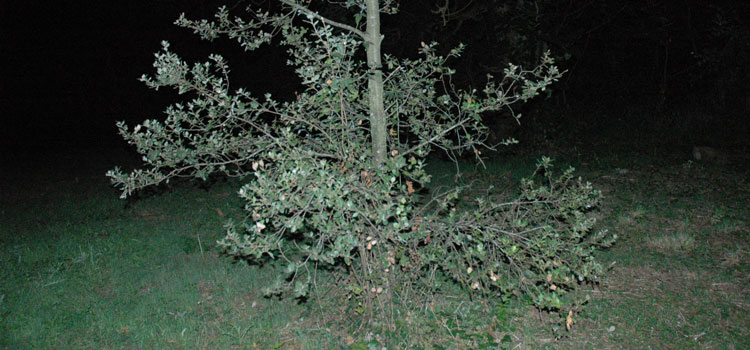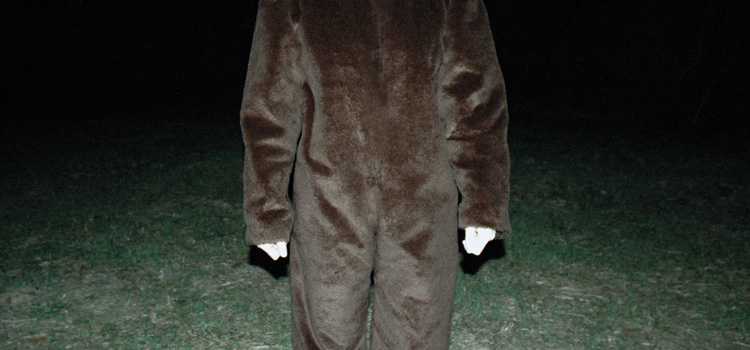 A selection of the images generated during 300 people and a bear / snapshot can be found in the archive [ here ].